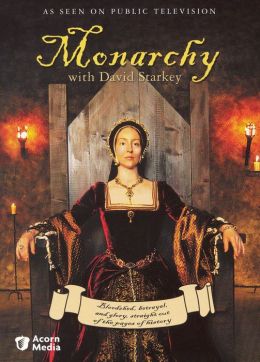 I recently watched David Starkey's sixteen-episode Monarchy series. I have not seen the final episode, "The House of Windsor" which was released in 2007. It was not part of the complete series DVD set.
The episodes were
A Nation State
Ængla Land
Conquest
Dynasty
A United Kingdom
Death of A Dynasty
The Crown Imperial
King and Emperor
The Shadow of the King
The Stuart Succession
Cromwell The King Killer
The Return of the King
The Glorious Revolution
Rule Brittania
Empire
Survival
The first episode begins in the Dark Ages, the highlight of this first episode is probably Alfred the Great and the invading Vikings. The last episode concludes with Queen Victoria's reign, not all the way to her death, however. Albert's death is mentioned.
Episodes are not equally fascinating. Some episodes I truly enjoyed. Other episodes I found a bit boring. The narration was fine, but, I did not always agree with David Starkey or find his opinions compelling or interesting. Sometimes the direction he took the episode disappointed me. I wasn't learning what I most wanted to learn, and instead it was full of detail that I just didn't care if I ever learned about. I found the earlier episodes more interesting than later episodes.
Some episodes at least are available to watch on YouTube.
A Nation State
King and Emperor
The Return of the King
© 2013 Becky Laney